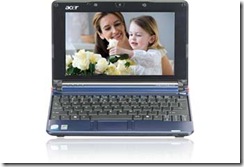 Acer® redefines mobile connectivity with the Aspire One netbook that's packed with fun, powerful computing features. This light, compact laptop weighs in at just over two pounds. You'll have unmatched convenience with its ultra-efficient, user-friendly interface and wireless connectivity that includes a built-in ATT 3G modem. Plus, there's an integrated webcam and 160GB of storage space for your important digital photos, files and music in this slick little sapphire blue package.
The 1.6GHz Intel Atom N270 combines performance, power and efficiency to explore the Internet
1GB RAM installed, expandable to 1.5GB will allow you to multitask easily
The 8.9" WSVGA (1024×600) TFT display with Acer® CrystalBrite technology gives you a great view
Radio Shack is selling this laptop for $49.99 With a 2 year contract from AT&T for $60/mo + Taxs. This is a good deal if your looking for a netbook & you travel alot. However if your a school student or just need a netbook for around your office or home, you can buy a netbook like the Asus 1000HE witch is a much better netbook for a lot cheaper. More than likely you already have internet access at the office and at school.