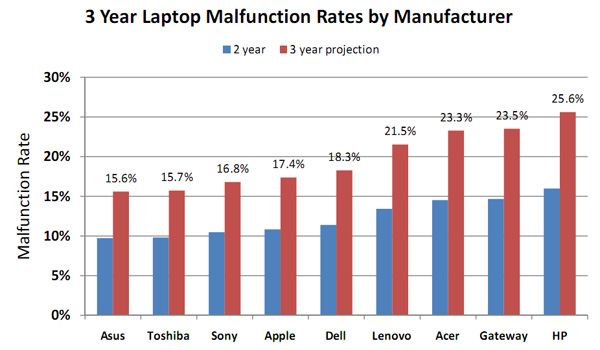 Boy, do we have a nice slab of data for you to sink your teeth into today. The 3-year service history of more than 30,000 laptops has been pored over, analyzed, and reduced to gorgeous comparative charts, which you know you're dying to know more about. We should note, however, that the service was provided by SquareTrade, whose primary business is selling extended warranties, but that shouldn't completely prejudice us against reaching conclusions on the basis of the presented facts. Firstly, netbooks have shown themselves to be on average 20 percent less reliable than entry-level laptops, which in turn are 10 percent more likely to break down than premium machines. In other words, you get what you pay for — shocking, right? The big talking point, though, will inevitably be the manufacturer comparison chart above: here ASUS and Toshiba (rather appropriately) share the winners' spoils, while HP languishes in the ignominious last place, with more than a quarter of all laptops expected to suffer a hardware fault of some kind within three years. So, does your experience corroborate / refute this info? Keep it gentlemanly, okay?
Link to the original story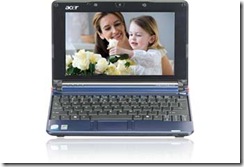 Acer® redefines mobile connectivity with the Aspire One netbook that's packed with fun, powerful computing features. This light, compact laptop weighs in at just over two pounds. You'll have unmatched convenience with its ultra-efficient, user-friendly interface and wireless connectivity that includes a built-in ATT 3G modem. Plus, there's an integrated webcam and 160GB of storage space for your important digital photos, files and music in this slick little sapphire blue package.
The 1.6GHz Intel Atom N270 combines performance, power and efficiency to explore the Internet
1GB RAM installed, expandable to 1.5GB will allow you to multitask easily
The 8.9" WSVGA (1024×600) TFT display with Acer® CrystalBrite technology gives you a great view
Radio Shack is selling this laptop for $49.99 With a 2 year contract from AT&T for $60/mo + Taxs. This is a good deal if your looking for a netbook & you travel alot. However if your a school student or just need a netbook for around your office or home, you can buy a netbook like the Asus 1000HE witch is a much better netbook for a lot cheaper. More than likely you already have internet access at the office and at school.